BioAcids Tech has developed a fermentation technology that can be applied in the production of various products. Among the products developed by BioAcids Tech we can highlight the following: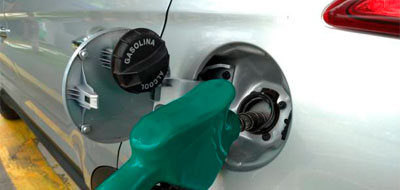 Ethanol - C2H6O
The technology developed by BioAcids Tech allows greater control of fermentation, making the process a true continuous process, which results in greater savings in utilities, reduction in the number of steps, and reduction in the use of antibiotics. The process developed by BioAcids Tech uses less energy in the production of ethanol. All these factors result in significant gains in the cost of production with an increase in the producer's profit margin.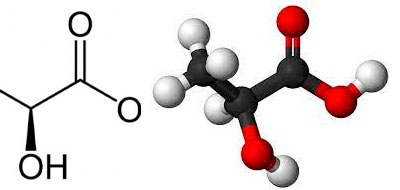 Lactic acid - C3H6O3
Is a base product and its production process is well established. The lactic acid production process by fermentation is one of the most efficient processes in terms of mass yield, with values ​​close to 98%. The world market for lactic acid is 1960 kton and US$ 3.82 billion. The main application of lactic acid is in the food industry as a natural and biodegradable preservative. Among its main properties are the extension of shelf life, fortification with calcium, magnesium, and zinc, sodium reduction, flavor aid and stabilization of candies and confections, and emulsifier. Lactic acid has an application that has grown with several applications (packaging, implants) which is the production of PLA, polylactic acid. PLA is a polymer with physical properties similar to polypropylene, but biodegradable. The auto industry has used PLA in place of PP (10% of an automobile's weight) in high-end cars. PLA has a much higher value than PP, but as its use becomes popular, the trend is that its production will reduce its price. The technology developed by Bio Acids Tech Brasil for the production of lactic acid guarantees the same yield as conventional processes, but with products of greater purity and lower cost.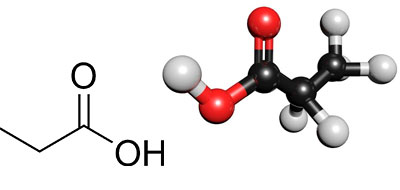 Propionic Acid - C3H6O2
Is fully miscible with water and some organic solvents. o Propionic acid occurs naturally as a product of the fermentation of various raw materials and is also available in the form of esters in essential oils. Propionic acid can also be produced chemically from ethylene and CO. Propionic acid is an acid with applications as a preservative in animal and human food. It is a reaction intermediate used in the production of pharmaceuticals, agricultural pesticides, and solvents. It is also used in the production of esters, Vitamin E, and in the production of flavorings in the food industry. Propionic acid is also used as an intermediate in the production of a particular type of thermoplastic, cellulose acetate/propionate. In all markets where propionic acid participates, there are growing trends in its consumption. The propionic acid market is believed to be $1.53 billion. It is believed that the increased demand will come from the agricultural industry as propionic acid is used to control fungal growth on grains and to protect various agricultural products from bacterial infestations. The propionic acid production technology developed by Bio Acids Tech obtains yields equal to or greater than conventional processes, in addition to delivering a product of greater purity.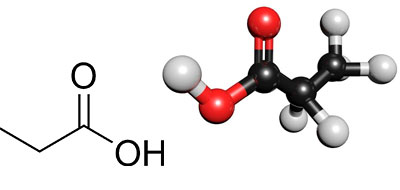 Fumaric Acid - C4H4O2
Is mainly used in the beverage industry (food industry). In 2020 its market was approximately US$750 million. Furthermore, fumaric acid is a platform for the production of many chemical products and in the production of polymers. The fumaric acid market is well divided into three parts, each with about 1/3 of the total. Fumaric acid is used in the food, pharmaceutical, and cosmetics industries. Other applications include the production of resins and paints. The technology developed by Bio Acids Tech produces fumaric acid in a sustainable way and with yields superior to those obtained by conventional industry.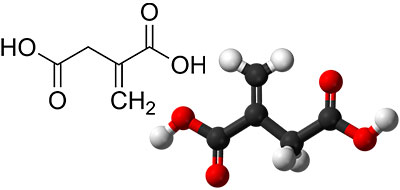 Itaconic Acid - C5H6O4
Has applications in polymers such as SBR latex (mixture of latex with carboxylated styrene-butadiene copolymer) since itaconic acid has high adhesive strength, it can add tensile strength (or tensile) material and moisture resistance. The global market for itaconic acid is expected to reach a value of US$ 102.3 million in 2022. The main input for the production of itaconic acid by fermentation from sugarcane.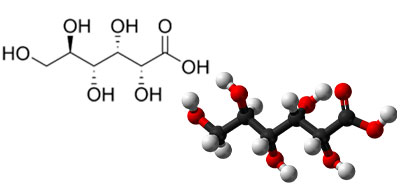 Gluconic Acid - C6H12O7
Is a Penta hydroxy monocarboxylic acid derived from glucose and has applications in medical, food, cosmetic, and industrial areas. It is a weak, non-toxic, and non-corrosive acid. Market growth has been steady in recent years at US$50M in 2017 and is believed to be US$1B in 2027. The main use of gluconic acid is in the food industry as an acidulant. One of the industrial ways of producing gluconic acid from glucose is through oxidation with HNO3, which generates a substantial amount of waste with a high treatment cost. There are several ongoing attempts to develop alternative processes that aim, among other reasons, to reduce the amount of toxic waste generated in its production, such as the use of electrochemistry with 98% conversions and selectivity combined with glucaric acid and gluconic acid 98%.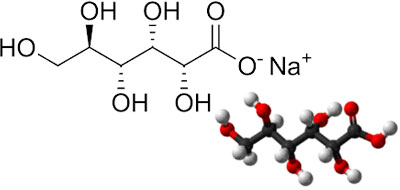 Sodium Gluconate - C6H11NaO7
Important by-products of gluconic acid include salts of sodium, potassium, calcium, magnesium, and other alkali and alkaline earth metals. The most common of these salts is the sodium salt. Sodium gluconate is a solid (white) with high water solubility. Sodium gluconate is widely used in the textile (dyeing), printing (newspapers and books), and metal surface treatment industries and, above all, in the construction industry as a concrete retardant and plasticizer. About 91% of sodium gluconate use requires industrial grade. It is used as a complexing agent, steel surface cleaning agent, glass cleaning agent (bottles and containers), and as a complexing agent in the cement, metallization, and alumina pigment industries. The market in 2016 was 100kton with expected growth of 11% per year. In Brazil, sodium gluconate and gluconic acid are used as cement setting retarders in the petroleum industry. Other gluconic acid salts include calcium gluconate, zinc, copper, iron and potassium salts, and delta lactone gluconate.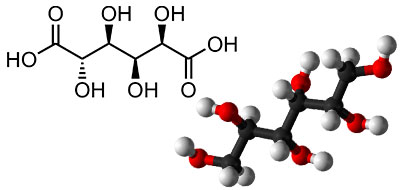 Glucaric Acid - C6H10O8
Also called saccharic acid, is a diacid obtained by the oxidation of glucose (along with gluconic acid). The traditional production process of glucaric acid (and also gluconic acid) involves the oxidizing step of glucose with nitric acid, HNO3, a mineral acid that is quite aggressive to the environment. The technology developed by Bio Acids Tech for the production of glucaric acid does not use products that are aggressive to the environment, have higher yields than conventional ones. The market for glucaric acid applications includes the market for detergents, foods, corrosion inhibitors, and de-icing processes (on public roads, airports, etc.). It is estimated that by 2024 the market for glucaric acid is expected to be worth US$440 million.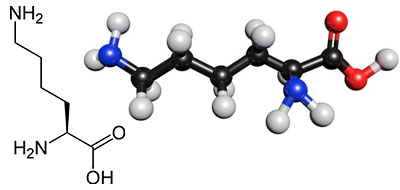 Lysine - C6H14N2O2
A basic polar amino acid is widely used in animal nutrition, especially poultry and swine. Brazil is a large producer of lysine. Most of its production is exported to Latin America, but recently a production expansion is aimed at reaching markets in North America, Europe, and Asia. The increase in animal protein consumption resulting from the increase in population affluence, especially in China and India has led to a considerable increase in the consumption of amino acids. The world market of amino acids that was 1 million tons in 2007 has increased to 6.2 million tons in 2013 and is estimated to reach 10.1 million tons in 2022, an annual growth of 5.6%.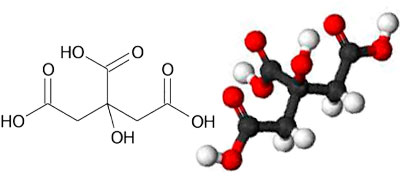 Citric Acid - C6H8O7
Is mainly used in the food industry and also in the pharmaceutical industry. The citric acid market is estimated at $3.83 billion in 2025. The citric acid market is heavily concentrated in large companies. The technology developed by BioAcids Tech for the production of citric acid guarantees a yield equal to or greater than conventional methods, but with greater purity.